EqualFETAL™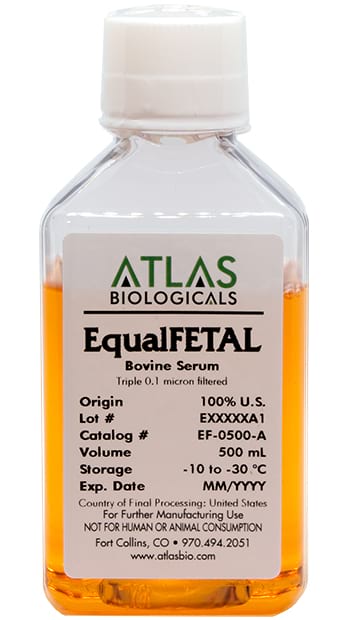 EF-0050-A (50 mL each) and EF-0500-A (500 mL each)
100% US Origin Bovine Serum
Manufactured in the USA
No Additives • No Supplements • No Synthetic Materials • High Quality Bovine Serum
Overview
EqualFetal is an FBS alternative Serum.
Superior Trace-ability
Lot-to-Lot Consistency
Stable Pricing
FBS alternative Bovine Serum is free of additives or supplements. The finished product has essentially the same chemical profile specifications as FBS and is expected to behave similarly.
See known compatible and incompatible cell lines listed below.
Derived from bovine animals after birth that have been tested to meet FBS specifications.  EqualFetal is highly similar to FBS, intended to be used interchangeably, and expected to perform the same on select cell lines. In fact, USP and ISIA FBS specifications are equivalent to EqualFetal.  EqualFetal is comprised of PURE bovine serum and contains no additives.  Our proprietary collection methods reduce variability typically associated with lot-to-lot inconsistencies in FBS.
Use EqualFetal as a direct fetal bovine serum alternative. Just like FBS, the performance of EqualFetal will depend on the cell type, media and culture conditions. Every biological product has a certain degree of variability. When EqualFetal performs for a particular application; you can be confident that subsequent lots will perform with minimal variability because of our unique sourcing. Adapt your cells to EqualFetal in the same way as when switching lots of FBS.
Usage Statement: For further manufacturing use. NOT FOR HUMAN OR ANIMAL CONSUMPTION
Species: 100% Bovine (Bos Taurus)
Treatments Available On Request
Cell Lines
It is suggested that serum products be tested by the end user as results may vary depending on methodology and other variables. We will continue to add cell lines as new data is generated. Results are compiled from independent testing as reported by end users.
Known to NOT Work Well:
Caco2
HEK293T
High-5
Jurkat
MA-10
MCF-7
MDCK
RK13
Sf9
Sf21
Known to Work Well:
1301
3T3 L1
A-375
A-594
Adipose Cells (Adipocyte)
AR42 J
B Cells / B Lymphocytes
BEAS-2B
Bone Marrow Stromal Cells
BxPC-3
C57BL / 6
C-636
Cardiac Stem Cells
Cardiomyocytes
Cartlidge and Connective Tissue
Chondrocytes
COLO 205
COS-7
COV434
Dendritic Cells
EoL-1
Equine Mesenchymal Stem Cells
Fao
H23
H441
H1299
H1650
H2009
HCT 116
HEK 293
HeLa
HL-60
HMVII
HT-1080
HT-29
HT-55
Human Adipose Stem Cells
Human Amniocytes
Human Epithelial Cells
Human Liposarcoma Cells
Human Lung Endothelial Cells
Human Stromal Cells
HUVEC
IMR 32
J774A.1
JeKo-1
Jurkat E6.1
K-562
L 929
Leukocytes
Lymphocytes
MAEC
MAPC
MDA-MB-231
MDBK
MEF
MG-63
MIA PaCa-2
Mino
Mouse Adipose Cells
Mouse Neuroblastoma
Mouse Primary Lung
Mouse Primary Spleen
Mouse Progenitor Cells
MSC
NB2-11
Nthy-ori 3-1
OE19
OE33
PANC-1
PBMC
PC-12
PC-3
PNT1A
PNT2
Primary Airway
Primary Cortical Neuron
Primary Human Fibroblasts
Primary Motor Neuron
QT 35
RAW 264.7
RCC4 plus VHL
REC-1
Saos-2
Schwann Cells
SK-OV-3
Smooth Muscle Cells
SP2/0-Ag14
SP-53
SW 872
T-Cells
THP 1
TK-6
U-2 OS
U937
VCaP
Vero
WI 38
Also look at specific product test data with EqualFETAL:
EqualFETAL Product Tests
FAQs
What is EqualFETAL®?
EqualFETAL® is 100% United States Origin Bovine Serum that will replace the need for FBS in a wide variety of cell lines.
Are there any additives in EqualFETAL®?
None. There are no additives in EqualFETAL®. It is 100% pure bovine serum. The name originates from the fact EqualFETAL® that is equivalent to FBS with regard to specifications and performance.
Why is EqualFETAL® less expensive than FBS?
Atlas Biologicals owns and controls the blood collection and processing facilities.
Why are the advantages of EqualFETAL® vs. FBS?
Lot to lot consistency, traceability and pricing.
How do I use EqualFETAL®?
In most cases you can use EqualFETAL® just as you would use FBS. For certain cell lines an adaptation protocol may be utilized. See protocols.
Why are my cells not growing as well as my control?
As with all commercially available fetal bovine serum, it is possible to get different results using the same product but of another lot. All sera, not just EqualFETAL®, represent an undefined mixture in which composition varies from one lot to the next. Sensitive cells can be affected by this variation. In an effort to minimize variation users often purchase large quantities of pre-qualified lots. When a new lot of serum is introduced it is often compared to the control; cells that have been continuously grown in a qualified lot for a period of time. Cells may take additional time to adapt to the variables presented in the new lot of serum because they have been conditioned to grow in the control serum. The benefit of using EqualFETAL® is that Atlas has reduced variables so that when switching from one EqualFETAL® lot to the next, performance should be comparable to previous results. See our protocol page for recommendations for introducing EqualFETAL® to your application.