US Origin Fetal Bovine Serum FBS/FCS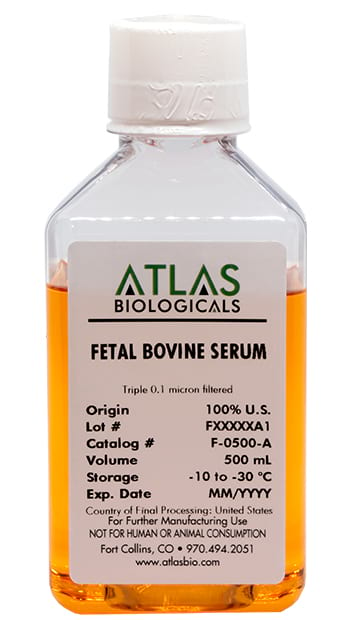 F-0050-A (50 mL each) F-0500-A (500 mL each)
100% Fetal Bovine Serum (FBS) – US Origin
Manufactured in the USA
Overview
Product Overview Fetal Bovine Serum (FBS) is a by-product of the beef (bovine) industry that originates from fetuses of healthy dams that have been deemed fit for human consumption through ante-and post-mortem veterinary inspection.   It is the most popular of the serum types.  Atlas's FBS is collected from ISIA traceability certified facilities that undergo cGMP audits.  Serum is filtered through a series of 0.1um pore sized integrity tested filters to provide a product suitable for cell culture. Fetal Bovine Serum is the most expensive component when preparing complete media.  A 10% concentration of FBS costs more than all standard cell culture components combined. Usage Statement: For further manufacturing use. NOT FOR HUMAN OR ANIMAL CONSUMPTION Species: 100% Bovine (Bos Taurus)
Fetal Bovine Serum Treatments Available On Request
The more you know…
Atlas Bio's Commitment to Fetal Bovine Serum Quality & FBS Authenticity:
Fetal Bovine Serum Authenticity
The sale of adulterated fetal bovine serum is on the rise. While there's nothing inherently wrong with blended products, we are frequently seeing blended products sold as pure FBS. Our Director of Quality Assurance, Michelle Cheever, co-authored the article: A Method for Differentiating Fetal Bovine Serum from Newborn Calf Serum with Alyssa Master, Senior Manager, Science and Applications, Nucleus Biologics, and Rosemary Versteegen, Chief Executive Officer, International Serum Industry Association (ISIA). The methodology described in this paper differentiates fetal bovine serum from newborn calf serum on the basis of biochemical composition.